From: Equipment World Better Roads,  Authored by: Don McLoud  Apr 14, 2021
If you're going to World of Concrete in June, you'll get a chance to be one of the first to ride in Elon Musk's underground Loop tunnel system.
Musk's first such fully commercial operational tunnel – built by his Boring Company – features electric Tesla electric vehicles driving attendees in the new Las Vegas Convention Center Loop.
The 40-foot-deep Loop consists of two tunnels that are each one way and are 8/10ths of a mile long. The Las Vegas Convention & Visitors Authority says the system can transport 4,400 attendees per hour across the campus. The ride across campus is less than 2 minutes, versus a 25-minute walk. There is no cost to ride.
The electric vehicles are Tesla Models 3 and X and can reach speeds up to 150 mph, but for the time being, they're only going about 40 mph because of the tunnels' length, the authority says. The 62 vehicles on the system will also have drivers, but the plan is for them to eventually be autonomous. They hold up to to five passengers, but due to Covid-19, there will be a three-passenger limit at World of Concrete.
Check out this video of the new Loop:
The Loop has three passenger stations: one above ground at South Hall, one below ground at Central Hall and one above ground at West Hall.
The Boring Company touts the new Loop as more of an underground highway than a subway. One of the big differences is that passengers are taken directly to their destination rather than making intermediate stops, the company says. That also allows vehicles to travel up to 150 mph versus the 65 mph of subway cars, according to the company.
The system was built within a year and a half at a cost of $52.5 million. The tunnels have an inner diameter of 12 feet. A command system monitors the system's operation and safety.
The Loop was built in conjunction with the convention center's $980 million West Hall expansion, which will also debut at World of Concrete. The West Hall spans 1.4 million square feet.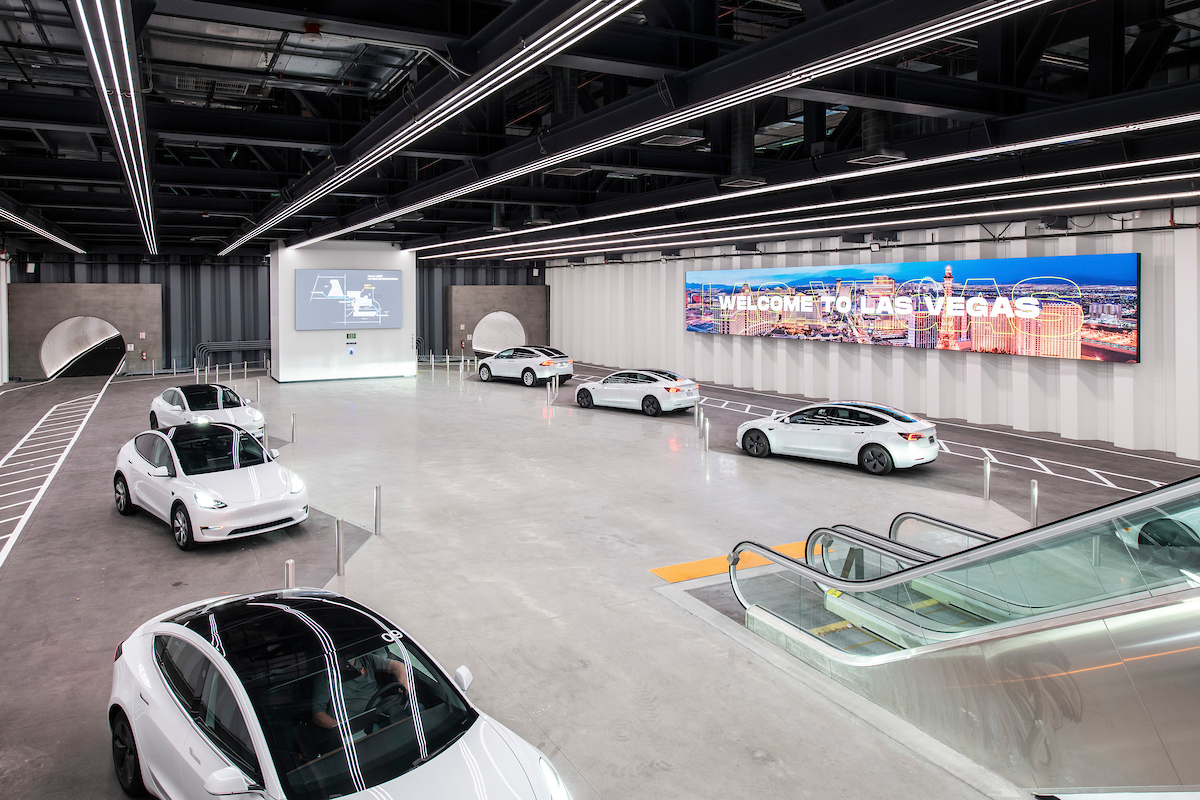 Electric Teslas will transport convention center attendees at 35 to 40 mph in the two one-way tunnels.Las Vegas Convention & Visitors AuthorityThe center's Loop is just Musk's first step in Vegas. The Boring Company has also won approval to build a larger connecting set of tunnels to the resorts to create the Vegas Loop. That system is designed to transport visitors to such areas as downtown, the Strip and Allegiant Stadium.
"We are excited to have partnered with Elon's company to bring this transportation 'first' to our valued convention customers," says Steve Hill, LVCVA president and CEO. "The expanded Loop system, when developed, will be a game-changer and a new 'must experience' attraction for our visitors."
Get the business tips, industry insights and trending news every contractor needs to know in the Equipment World newsletter.